Debate Bingo! A fun little sprint
UPDATED BELOW
It's not journalism. And it barely counts as "data news." But the WNYC Debate Bingo game was a great exercise in designing, coding and publishing a web application — in just 48 hours.
Jumping on an idea from political editor Caitlin Thompson, we stood before a whiteboard Monday morning and talked out how we might build an interactive bingo card. Randomized cells? Definitely. Should it check in with a master spreadsheet of correct answers? No. Should users be able to tweet out individual cards? Yes.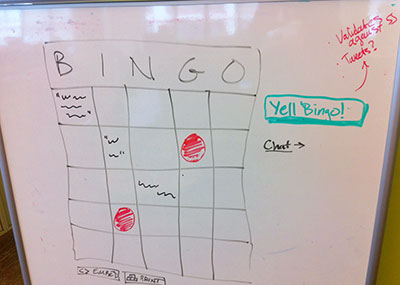 Interaction designer Louise Ma grabbed onto the concept, got inspiration from images of classic bingo cards and mocked up a design in Illustrator; Stephen Reader and Thompson filled and tweaked a spreadsheet of phrases for the boxes.
By Tuesday morning, Steven Melendez was coding Ma's design and the functionality we had all talked about. He also figured out a way to encode the board's state into the URL so it could be tweeted.
Late in the day we shared the game with folks within WNYC to kick the tires. Their feedback led to several improvements, such as adding an admonishment if you try to "Yell Bingo" before you have five pieces in a row. 
This morning, we put it on WNYC's website and sent it out via Twitter. We immediately got comments that it should have a "print card" option — which you can see was in our original whiteboard sketch — so Ma and Melendez added that on the fly.
We hope folks find the game fun. But working with this amazing team to make it was even more so.
UPDATE 10/4/2012: In the spirit of public media, and public code, we just shared a "white label" version of the game code so anyone with a some programming chops can use it for their own site. 
- John Keefe